General Assembly
Friday, October 1st, 2021
About
Each fall semester, Austin Community College (ACC) employees from across the district gather at General Assembly to hear key College updates, celebrate success, and help us reflect on our work. This event helps connect the dots between an employee's daily work and the strategic plan of the College. This year's theme, "Light Your Fire", focuses on the role that creating purpose and belonging play in student success and in our personal and professional growth.
General Assembly 2021 has both online and in-person options. All ACC faculty and staff are invited to participate. Employees who attend in person must register. Seating in person is limited compared to past years, and ACC COVID-19 safety protocols will be followed.
Closed Captioning and ASL interpreters will be provided during the event.
For any questions, please contact generalassembly-group@austincc.edu.
Info Hub
The Info Hub is the best source for the latest ACC news, updates on the Chancellor's priorities, and details on how to get engaged across the College.
Registration for In-Person Attendance
Deadline: Noon, September 27th, 2021
Note:  ACC employees who plan to attend ACC's annual General Assembly virtually do not need to register.
Program
8:00 am – Pre-Show
9:00 am – Welcome, Dr. Richard Rhodes, ACC Chancellor
9:10 am – Board Chair Remarks, Dr. Nan McRaven, ACC Board Chair
9:20 am – Employee Recognitions
9:40 am – State of the College Address, Dr. Richard Rhodes, ACC Chancellor
10:00 am – Becoming a Student-Ready College, Mike Midgely, VC Instruction, Dr. Shasta Buchanan, VC Student Affairs, and Dr. Jenna Cullinane Hege, VC Institutional Research & Analytics
10:30 am – Break
10:35 am – Keynote, Charles Hunt
11:30 am – Closing Remarks, Dr. Susan Thomason, AVC Teaching & Learning Excellence Division (TLED)
General Assembly App
Use this this app to learn more about the program, check in to the event, livestream it, and much more!
Location
Palmer Events Center
900 Barton Springs Rd, Austin, TX 78704
Parking
Present this QR code for free parking. If you do not present this QR code, you will be responsible for the $15 parking fee.
Keynote:
The Audacity of YOU: Building Unbreakable Spirits Through Resilience
Defined as the capacity to adapt to and recover from negative change, resilience is critical to our success, happiness, and life journey. The presentation will cover the "P's of Resilience", principles that can be applied to our CLEAR Resilience framework encompassing the 5 major areas resilience is exercised in – Career, Life, Economic, Academic, and Race.
Learning Objectives: Attendees will learn principles of resilience and how to apply them for yourself and the people you serve.
Keynote Speaker: Charles Hunt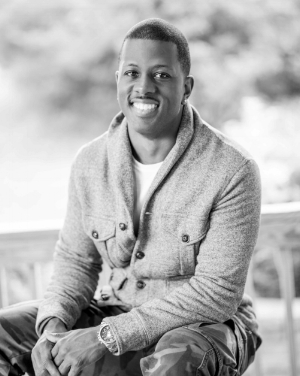 Charles Hunt is a resilience expert, adjunct professor, and motivational speaker. Adept at leveraging transparency to inspire and get results, this former college recruiting, talent management, diversity, and supply chain leader left the corporate world to fulfill his vision of building unbreakable spirits and cultivating resilience for those who, like him, have the audacity to succeed. He helps students and young professionals build resilience, believe in bigger and greater for themselves, and create the academic, economic, and career plans to get there.
Read summaries from past General Assembly events, including recordings and event materials (if available).