Faculty Talent Onboarding
The Teaching & Learning Excellence Division (TLED) has partnered with Human Resources (HR) to create an experience for new faculty like no other. Our comprehensive orientation and onboarding program delivers online and monthly sessions to brand new adjunct and full-time faculty. This semester-long program is designed to launch you into a successful career here at Austin Community College (ACC) and bring ease to your first semester of many here with us.
For any questions, please email the Office of Faculty Development at facdev@austincc.edu.
Welcome!
Fall 2021 Orientation Information
Welcome Bag Pick Up
Come pick up a swag bag with ACC gear, a workbook to follow along during orientation, a water bottle, and your ACC ID. Also, a special guest will be there to greet you!
Stop by the ACC Highland Campus, Bldg 4000 (North Entrance) during any of these time frames:
August 3rd – 1:00pm-5:00pm
August 4th – 1:00pm-5:00pm
August 5th – 1:00pm-5:00pm
Read through the Orientation options below and then please fill out this form to let us know which option you will be attending, share your bio, headshot, and your T-shirt size.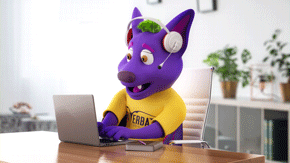 Synchronous Online New Faculty Orientation
By completing this orientation, you will be able to fully participate during the week before classes to attend department meetings, division or Area of Study meetings, work with colleagues, attend department-specific training, and work on course preparation.
August 9-11: Introduction to ACC & Course Preparation
August 9th – 8:30am-4:00pm
August 10th – 8:30am-2:00pm
August 11th – 8:30am-2:00pm
Compensation
$1500 stipend for full-time and adjunct faculty
August 12-13: Quality Matters Training (Sign up will be available during Day 1 of Orientation). Please choose either the morning or afternoon.
Morning: August 12th – 9:00am-12:00pm & August 13th – 9:00am-12:00pm
Afternoon: August 12th – 1:00pm-4:00pm & August 13th 1:00pm-4:00pm
August 16: Human Resources Orientation
August 16th – 8:00am-12:00pm
Orientation Option 2: (for Adjunct Faculty)
Asynchronous Online Quick-Start Orientation
If adjunct faculty cannot attend option 1 then they must complete a 4-hour Asynchronous Adjunct Orientation. Adjunct faculty will be added to a Blackboard Course by August 18th.
Compensation: $100
Deadline for Completion: Thursday, September 30th, 2021
Teaching Consultations & Support
The Teaching & Learning Excellence Division (TLED) and the Office of Distance & Alternative Education (ODAE) provide comprehensive support in course design, technology tools for teaching, and other high-impact practices that contribute to our Guided Pathways model at Austin Community College (ACC). We are available for various types of consultations to provide just-in-time assistance and support for your teaching. Review our robust options by visiting:
Monthly First Semester Onboarding for ALL Faculty
These two and half hour sessions are offered in either F2F or synchronous online environments and include one day and one evening option each month of faculty's first semester
September 10 or 14: Connecting With Your College, Colleagues, and Students

October 8 or 12: Evaluation and Portfolio Process

November 12 or 16: Student Success Resources

December 3 or 7: Teaching & Learning Strategies


Compensation:

Adjunct faculty: $25/hour
Implementing a Faculty Orientation & Onboarding Program to Increase Student Success
Chelsea Biggerstaff and Michelle Costanzo presented on the faculty talent onboarding at ACC. Participants discussed ways to improve their onboarding process and heard faculty testimonials.
Note: Presentation begins at 23:35
To fulfill the educational mission of Austin Community College, we, the faculty, champion the following shared values:
We support a Culture of Collaboration, Community Building, and Service with our students, colleagues, and the greater community
We Advocate Access, Diversity, Equity, and Inclusion
We Promote Academic Freedom, Freedom of Expression, and Empowerment
We Advance Scholarship, Learning, and the Assessment of our Work
We Support Student Success through Exemplary Teaching & Lifelong Learning
As we embody these values, we cultivate an environment of mutual trust, esteem, and respect.
As a faculty, we have defined each of our values with clarifying statements and examples of potential ways to envision our values in action. These examples are not inclusive of ways our faculty can demonstrate our values.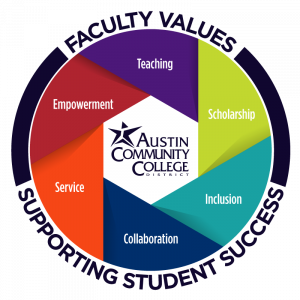 Faculty Onboarding Orientation Archive
Onboarding session 1 is complete for Spring 2021.
Description: Faculty will be invited to learn more about the College, their colleagues, and their students. Faculty members new to ACC will have the opportunity to find key points of contact in the College and develop solutions to early challenges.
Session is open to ALL ACC faculty.
GOALS:
Learn about ACC's Mission, Faculty Values, and Student Success Program AND how you can support them.
Get a better understanding of the diverse ACC student body and how Pathways supports student success.
Connect and collaborate with your faculty colleagues while developing a stronger sense of belonging here at ACC.
Increase your understanding of important contact people and the resources they can provide. ​*A focus on Department Chairs, Campus Managers, Deans of Student Affairs, Mentors.
Onboarding session 2 is complete for Spring 2021.
Description: Faculty will receive information about ACC's evaluation and portfolio process, specific departmental and College-wide requirements. This interactive session will get faculty members thinking about their syllabi, teaching philosophies, and future growth as educators.
Session is open to ALL ACC faculty
GOALS:
Be prepared to participate in the faculty evaluation process.
Begin to develop a plan for the teaching portfolio.
Examine some faculty challenges and develop strategies to handle them.
Develop one well-defined goal for future growth in teaching for Professional Development Plan (PDP).
.
Onboarding session 3 is complete for Spring 2021.
Description: Faculty will be exposed to resources from ACC and beyond that support student success. Faculty will meet with 12-15 different student support departments to connect and learn about these valuable resources.
GOALS:
Learn about resources for student success from ACC.
Meet with representatives from 12-14 Faculty/Student support services.
Develop ideas about how to use student support resources in your teaching.
Colleague to colleague discussion time on student success strategies.
Onboarding session 4 is complete for Spring 2021.
Description: Faculty will have the opportunity to connect with their colleagues and faculty mentors to learn from successes and overcome challenges faced as a new faculty member. Faculty will engage with one another reflecting on their semester. Faculty will leave with best practices and ways to make their next semester even more successful.
Session is open to ALL ACC faculty.
Fall 2020 orientation sessions are complete. Here's what our participants thought about our sessions:
"I honestly can't say enough good about this experience! Every presenter was engaging and knowledgeable. I really thought you guys did a great job!"
"Awesome, engaging, thoughtfully designed!"
"It has definitely made more proud and excited to be an ACC professor."
Faculty Talent Onboarding Alumni
Faculty that complete all components of the Faculty Talent Onboarding program earn a certificate of completion.