Faculty Talent Onboarding
The Teaching & Learning Excellence Division (TLED) has partnered with Human Resources (HR) to create an experience for new faculty like no other. Our comprehensive orientation and onboarding program delivers online and monthly sessions to brand new adjunct and full-time faculty. This semester-long program is designed to launch you into a successful career here at Austin Community College (ACC) and bring ease to your first semester of many here with us.
For any questions, please email the Office of Faculty Development at facdev@austincc.edu.
Monthly Semester Onboarding Workshops for ALL Faculty
These two-and-a-half-hour sessions are offered synchronously online and include one day and one evening option each month.
Spring 2022 Workshops
Choose one option for each month. See dates below.
Session 1: Connecting with your College, Colleagues, and Students
February 11 , 2022: 9:00am – 11:30am
February 16, 2022:  5:30pm – 8:00pm
Session 2: Faculty Evaluation and Portfolio Process
March 11, 2022: 9:00am – 11:30am
March 23, 2022:  5:30pm – 8:00pm
Session 3: Student Success Resources
April 8, 2022: 9:00am – 11:30am
April 13, 2022: 5:30pm – 8:00pm
Session 4: Teaching and Learning Strategies
May 6, 2022: 9:00am – 11:30am
May 11, 2022: 5:30pm – 8:00pm
First-Year Faculty
View helpful checklists, and other resources for first-time faculty at ACC.
Teaching Consultations & Support
The Teaching & Learning Excellence Division (TLED) and the Office of Distance & Alternative Education (ODAE) provide comprehensive support in course design, technology tools for teaching, and other high-impact practices that contribute to our Guided Pathways model at Austin Community College (ACC). We are available for various types of consultations to provide just-in-time assistance and support for your teaching. Review our robust options by visiting:
Implementing a Faculty Orientation & Onboarding Program to Increase Student Success
Chelsea Biggerstaff and Michelle Costanzo presented on the faculty talent onboarding at ACC. Participants discussed ways to improve their onboarding process and heard faculty testimonials.
Note: Presentation begins at 23:35
To fulfill the educational mission of Austin Community College, we, the faculty, champion the following shared values:
We support a Culture of Collaboration, Community Building, and Service with our students, colleagues, and the greater community
We Advocate Access, Diversity, Equity, and Inclusion
We Promote Academic Freedom, Freedom of Expression, and Empowerment
We Advance Scholarship, Learning, and the Assessment of our Work
We Support Student Success through Exemplary Teaching & Lifelong Learning
As we embody these values, we cultivate an environment of mutual trust, esteem, and respect.
As a faculty, we have defined each of our values with clarifying statements and examples of potential ways to envision our values in action. These examples are not inclusive of ways our faculty can demonstrate our values.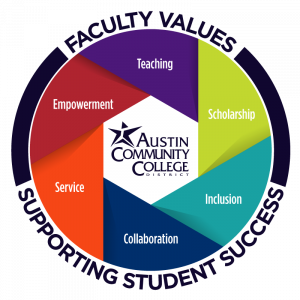 Faculty Talent Onboarding Alumni
Faculty that complete all components of the Faculty Talent Onboarding program earn a certificate of completion.