First-Year Faculty
Welcome to ACC!
We've gathered a collection of resources for first-year faculty at Austin Community College (ACC). The Teaching and Learning Excellence Division (TLED) works diligently to design experiences to support faculty growth and development. Options include teaching support – from integrating technology into your courses to personalized consultations to discuss teaching strategies, and specialized training and leadership programs.
Faculty Values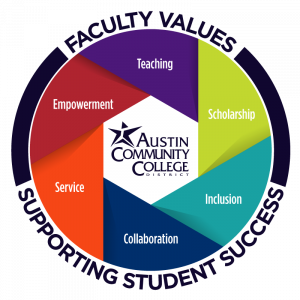 ACC Faculty Values play a significant role in the professional development and programming of faculty development and more at ACC.
First-Year Faculty Checklist
This checklist can be used to make sure you stay on track during your first year of teaching at ACC.
Semester Prep

Visit the Semester Prep page to get an overview and links to resources that will help you get started and prepare for your semester. Topics covered include Blackboard updates, library services, testing options for your courses, professional development, and so much more!
Faculty Orientation and Faculty Onboarding Workshops
HR Benefits
ACC Benefits 101 website – The Benefits office has created this website to give you a general understanding of your benefit options at ACC.
General benefits questions can be sent to:
HR Resources
Employment Handbooks
All new ACC faculty, both full-time and adjunct, must be assigned a mentor during their first semester at ACC. Any other faculty member may be assigned a mentor at the discretion of the Department Chairs or upon the request of the faculty member.
Contact your department for more specific information for obtaining a mentor.
Read more details about the Mentoring program.
As part of mentoring support, Faculty Development maintains a list of ACC faculty who have completed the Faculty Mentor Training and are prepared to mentor fellow faculty.
Access the Faculty Mentor List
View our Faculty Events Calendar for:
Upcoming professional development opportunities
Important College dates & deadlines
Self-paced & archived training
This calendar is interactive and offers users the ability to sort by topic as well as overlap events with your Google Calendar. Bookmark this URL for quick access: tled.austincc.edu/calendar.
Get event updates in your inbox weekly.
If you are teaching any an online and/or hybrid course, please visit the Teaching Online at ACC page for information that will help you get started.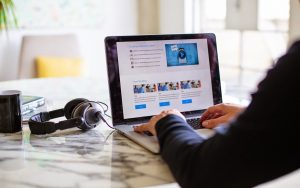 Stay Connected
To get the latest announcements on funding opportunities and other teaching and learning related events subscribe to TLED's weekly newsletter.