Department Chairs
We've compiled useful resources available at Austin Community College (ACC) to support department chairs. If you would like to suggest additional resources please email tledwebsite@austincc.edu.
Faculty Values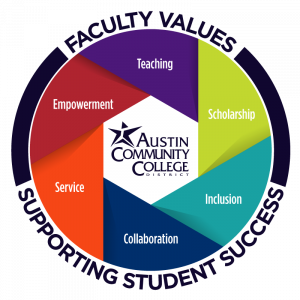 ACC Faculty Values play a significant role in the professional development and programming of faculty development and more at ACC.
Instructional Leadership Data Workshop
For those who were unable to attend, these are resources and forms shared during the Instructional Leadership Data Workshop. If you have any questions, please contact: Dr. Susan Thomason (sthomaso@austincc.edu) or Soon Merz Flynn (smerz@austincc.edu).
Provide feedback on the Departmental Snapshot to Dr. F.C. Caranikas: Submit Form
Required: You must be logged into your ACC Gmail Account to access the form.
Request a meeting on LMI data review with Daniel Chupe-O'hanlon: Submit Meeting Request
Required: You must be logged into your ACC Gmail Account for access.
Note: The LMI meeting request is a calendar. Please click to a future week to find an open slot.
Austin Community College's Program Review process for instructional units provides a framework to guide the reflective evaluation of the content, quality, and effectiveness of program curriculum, an essential part of academic stewardship. Program review enhances and ensures the quality of teaching we provide and learning we expect from our students.
Resources
Use the public course schedule to browse upcoming course sections by academic discipline, campus, instructor, and other categories.
Resources
The Guided Pathways website contains:
Information on the history of Guided Pathways
Program Maps process
Program Maps for each Area of Study
Online form to request a Program Map update
Open Educational Resources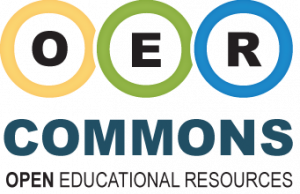 Open Educational Resources (OER) are low-cost or free resources in the public domain that are used for teaching, learning and research. They include a variety of content and formats under Creative Commons or open use licensing, from textbooks to simulations to assessment tools. OER are an option for faculty to teach their courses. OER offers reduced or zero cost to students when it comes to course books and other materials.
ACC Copyright & Fair Use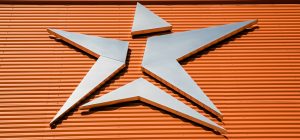 The Copyright & Fair Use site provides information to understand and comply with the United States Copyright Laws.
Contact:
Courtney Mlinar (ACC Copyright Officer)
Elgin Campus Library
Email: courtney.mlinar@austincc.edu
Phone: 512-223-9433
Ordering Textbooks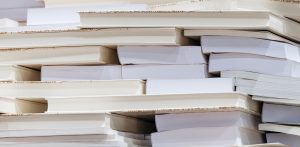 FacultyEnlight is Barnes and Noble's textbook selection software (B&N manages ACC's brick and mortar bookstores). It offers a more streamlined integration between ACC's textbook selection process and B&N's order management system than the former ordering processes in Ellucian. Using FacultyEnlight will also assist students view the correct information (textbook and associated costs) when they click on the 'Textbooks' links provided in ACC's online Course Schedule and ensure that B&N has the correct books/materials available for students.
Per Administrative Rule #4.01.006 Course Materials Orders course materials and textbooks orders will be submitted via FacultyEnlight. All staffed sections are required to have materials/textbooks ordered by the first day of registration for each semester.
Master Syllabi Repository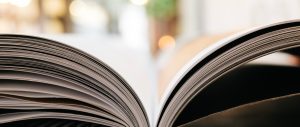 The Master Syllabi Repository maintains a listing of all master syllabi for ACC courses listed by department. Also, includes information on development your syllabi and a templates for syllabus creation.
Visit the ACC Master Syllabi Repository.
Resources
Contact
Director: Dr. Mary Jane McReynolds
Phone: (512) 223-7677
Email: mmcreyno@austincc.edu
Location: Highland Business Center, Room 604.8
Austin Community College District is committed to meeting the needs of business and industry by preparing students to be competent and employable upon completion of an ACC Associate Degree or Certificate program.
ACC uses a process called the Austin Competency Analysis Profile (ACAP) to systematically determine the skills and competencies required for entry into a field of study. These competencies form the basis for curriculum in several programs.
The Austin Competency Analysis Profile (ACAP) is a process for conducting an analysis for a targeted area of study. Eight to ten Subject Matter Experts (SME's) work with a team of trained facilitators to determine the competencies needed to become proficient in the field of study. The product of the ACAP process is a report detailing the competencies or outcomes required in the field.
The ACAP Report can be used in several ways. The main purpose of the report is to provide a basis for developing, validating and revising the curriculum for programs to meet current needs in a field of study. Because the ACAP Report defines Units, Competencies, and Competency Builders, it provides a clear transition into course/program curricula.
Courses can be aligned quickly and easily using the competencies identified in an ACAP Report for program areas. ACC instructional designers have worked with several programs to make this alignment. The process takes only a couple of hours. If you have an ACAP Report for your program area and would like to make this alignment, or if you would like to request an ACAP for your program, please contact the following Curriculum & Programs instructional designers:
Jennifer Gray: jgray@austincc.edu
Virgil McCullough: virgil.mccullough@austincc.edu
ACC Human Resources serves ACC employees in a variety of ways and offers a wide range of institutional programs.
Hiring & Onboarding New Employees