Online/Hybrid Course Design & Development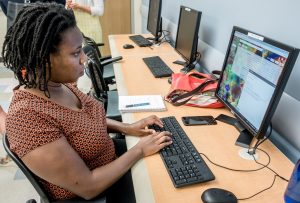 Do you have a face-to-face course that you'd like to transform to an online or hybrid version? Want to get started with planning a new hybrid or online course?
The Office of Distance & Alternative Education has dedicated QM certified instructional designers to help faculty with the design and development of online courses (fully online & hybrid) and the transformation of face-to-face courses to online. Visit the Teaching Consultations & Support page to learn more about our services.
Online Course Development & Review
Assist course design and meet QM standards
Conduct QM Reviews (Internal and National)
Online Course Accessibility
Accessibility checking and fixing for PDF, Word & PowerPoint documents
Video Closed Captioning assistance
Online Testing Tools Support
Creating tests, surveys, pools in Respondus
Respondus Lockdown Browser, Respondus Monitor & Respondus Live Proctoring
DE Online Proctoring
Lecture Capture/Presentation Tool Support
Submit the Course Redesign Request Form to request support for redesigning an already online/hybrid course to meet QM standards.
Submit DE Course Redesign Request Form
Submit the DE Course Approval form for support in transitioning your course to an online or hybrid format for the first time – either a brand new course or transitioning from f2f to online/hybrid.
Submit the DE Course Approval Form
Quality Matters (QM)
Quality Matters (QM) is a faculty-centered, peer review process designed to certify the quality of online courses and online components. Sponsored by MarylandOnline, Quality Matters has generated widespread interest and received national recognition for its peer-based approach to quality assurance and continuous improvement in online education.
Distance Education Professional Development
The Office of Distance & Alternative Education offers synchronous and asynchronous workshops for faculty in a variety of topics related to online and hybrid teaching, including the Distance Learning Instruction Series (DLIS) and the Applying the Quality Matters Rubric (APPQMR) which are required for DE faculty. Workshops are available each month, with concentrations in instructional design, pedagogy, implementation of new technologies, and college support services. Visit the Faculty Events Calendar and sort by the "DistanceEd" tag to find current and upcoming development opportunities.
Distance Education Offerings
DE Faculty Learning Communities
DE Faculty Interest Groups
Distance Education (DE) Mode Descriptions
Online – ONL
Instruction and testing are fully online without required class times.
Synchronous Virtual Class Meetings Required – DLS
Instruction is fully online with required online meetings during the specified days and times listed.
Hybrid Distance – HYD
Instruction is mostly online with some on-campus meetings. An ACC ID card and personal safety measures will be required when on campus.
Hybrid Classroom – HYC
Instruction is mostly on-campus with remaining instruction online. An ACC ID card and personal safety measures will be required when on campus.
Hyflex – FLX
A F2F, synchronous course section that allows students to attend virtually on any given class day.
Online ACC Faculty Community
Looking for more community? Join the Facebook group where Austin Community College faculty and staff are sharing insights, best practices, advice, successes and challenges, and research about teaching and learning.