Course Evaluation
Austin Community College (ACC) maintains a comprehensive set of pages on the processes and procedures for full-time, adjunct, and distance education faculty evaluation. The course evaluation process is lead and supported by the Office of Faculty Evaluation. Course evaluations are conducted every semester and it is required for each course.
If you have any questions regarding the evaluation process and procedures please visit the Faculty Evaluation page or email: facultyevaluation@austincc.edu.
For additional information, please refer to Administrative Rule # 6.07.001
NEW: Course Evaluations are Completely Online!
EASY ACCESS ONLINE
Students will be able to access course evaluations online via Blackboard. Students will know when the course evaluation is available or about to open, and when it closes.
IMMEDIATE FEEDBACK
Faculty will be able to see how many course evaluations have been submitted while the course evaluation is open, and after grades are submitted, see evaluation results.
FOCUS ON TEACHING
With course evaluations online, faculty will no longer use precious instructional time to conduct course evaluations. Faculty can focus on teaching and students on learning.
Course Evaluation Calendar
The course evaluation calendar outlines the dates for when course evaluation opens for each session. If your course evaluation isn't available by the date listed on the course evaluation calendar, please contact the Office of Faculty Evaluation: facultyevaluation@austincc.edu.
Course Evaluation Results
Course evaluation results are now available online. To access them, please log in through the evaluation link available in your Blackboard course.
To learn more about how to interpret your course evaluation results, please visit the webpage below.
Faculty Values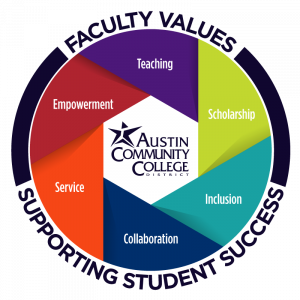 Online course evaluation empowers all ACC students to participate in the course evaluation process and provides timely feedback to faculty on their teaching.
ACC Faculty Values play a significant role in the professional development and programming of faculty development and more at ACC.