Semester Prep
Getting your semester started can take some planning but there's plenty of support. Do you have a suggestion for this page? Please email tledwebsite@austincc.edu.
Updates for Spring 2023
For a list of all the support options for faculty, please visit the Teaching Consultations & Support page.
Faculty Consultations are available starting Monday, January 9, 2023 through Friday, January 13, 2023 from 11 AM-12 PM.
All faculty are welcome to consult with Distance Education Instructional Designers (IDs) to help you prepare for the fall semester.
——————————————————————————-
Academic Alert: New Support System to Keep Students on their Path to Success
Austin Community College (ACC) is committed to student success and retention. If a student stops attending, misses assignments, tells you they can't pay their rent, or does poorly on tests, faculty can use the Academic Alert System as an intervention tool.  Academic Alert is a feature of Inspire, a comprehensive student support system, that allows ACC faculty to easily and quickly communicate with students needing extra support. Faculty can identify students who are having challenges and connect them with academic guidance specialists to help them resolve issues and access resources to help students persist. It can also be used to commend students who are doing well or showing improvement in class. Alerts will go directly to the student and/or the assigned guidance specialist.
The goal is to quickly identify the types of support a student may need to get on track to successfully complete the course and motivate students to continue to excel. 
ACC-Branded Google Sites Templates Available
Learn how to access ACC-branded Google Sites templates by reviewing these instructions. You will need to use your ACC credentials to access the templates.
ACC Library Services
ACC Campus Libraries are open, and e-resources are available any time through the library website at library.austincc.edu. Information literacy instruction from faculty librarians is available in-person, online, or asynchronously by request. And as always, chat live with a librarian is available 24/7.
Accessible Information Management (AIM)
Austin Community College District (ACC) will launch a new "one-stop shop" for Student Accessibility Services (SAS). Known as Accessible Information Management (AIM), this new system will help the college streamline services for students who need them. AIM is managed by the college's Student Accessibility Services (SAS) team.
AIM uses the college's single login service, OKTA, and integrates key information from Colleague such as class lists, student-level course information, GPA, textbook requirements, student academic information, and faculty information.
New students are now able to log into the AIM system and request services. They will also find support options and resources they need in one place. Additionally, faculty and staff will have a single system to review, submit, and monitor services for students.
Blackboard – Instructors Using McGraw Hill Connect
All McGraw Hill Connect instructors should now pair their sections using the new McGraw Hill Connect LTIA tool. This link is available under the Build Content menu within a content area and is titled "McGraw Hill Connect LTIA." The previous tool is scheduled for deprecation by May 2023 and will cease to function.
Because this process entails cleaning up old links, we highly encourage you to begin the migration to the new tool as soon as possible.
McGraw Hill has the following video to walk instructors through the new process: View Video
If you need assistance or have questions, McGraw Hill has asked that you schedule a meeting with their implementation team. You may schedule one at Schedule Meeting.
Career Services
Career Services is available to help students explore career options, prepare for employment, and search for jobs. Visit austincc.edu/career to learn about available resources or refer students to appointments with a career counselor or career coach.
Chosen Name 
Austin Community College recognizes that faculty, staff, and students may use names other than their legal name to identify themselves. The College has created a process in order to allow students to request use of a chosen first name where possible within the College's records and systems. Legal names will continue to be used when necessary for College business or legal purposes.
Distance Education (DE) Proctoring
Review the DE Proctoring Overview

Provide the information in the Student Appt Confirmation Email Example to your students well in advance of your first exam.
Encourage (or require) students to complete the installation of Class and the System & Settings Check a minimum of two (2) days prior to the appointment. Failure to do this BEFORE the testing session will result in the removal of the student. 
Educational Technology Support
Educational Technologists are located on each campus and the teams provide faculty – and staff – training and support on Blackboard and other academic technologies, classroom AV, and provide technology that can be checked out to support instruction. The Educational Technology Support team can be reached with a central phone number for support across the District – 512-223-0111.
Embedded Tutors and Academic Coaches are Available for your Courses
Embedded Tutors and Academic Coaches are available to work closely with you for the duration of the semester to help your students understand course concepts, practice effective learning strategies, and enhance their engagement.
We are preparing embedded tutor assignments for the Spring 2023 semester. Please submit your request via the link below.
The deadline to submit the form is Friday, January 13th. If you have any questions, please contact DeEadra Albert-Green (deeadra.albert-green@austincc.edu) for Embedded Tutoring or Traci Allen (traci.allen@austincc.edu) for Academic Coaching.
Grackledocs
Grackledocs is a new add-on available to all ACC Google Suite for Education users with austincc.edu email addresses. All faculty and staff across the ACC district will find the Grackledocs accessibility testing tools in Google Docs/Sheets/Slides under the Extensions dropdown menu: select Grackledocs to open the submenu, and hit LAUNCH to open the tools in the right-hand panel of Google documents, presentations, and spreadsheets.
Grackledocs is the first and only accessibility-checking tool for Google Docs/Sheets/Slides. AI-powered accessibility checking tools make it easy to identify barriers, and quickly fix any issues directly in the Grackledocs panel without leaving the document.
Contact Sean Lorass, Accessibility Technician at sloraas@austincc.edu for any questions.
Instructional Web
Review and verify that each section of your instructional website contains up-to-date information.
Update all out-of-date information and broken hyperlinks.
If the Instructional Web team manages your website, submit a request for updates to content and/or broken links.
Interpreter & Captioning Services
Prepare all your course materials ahead of the beginning of the semester to ensure they are accessible.
Request captioning of all videos. Any questions can be sent to captionmymedia@austincc.edu. We will work to create captions within your needed time frame, but we urge you to request captioning as early as possible.
Add Interpreters to Blackboard as Students. Any questions regarding interpreters, email interpservices@austincc.edu.
Master Syllabus Template Updated
From Ron Johns, Associate Dean, Assessment & Evaluation: The template for Spring, 2023, is available on the master syllabus website. There are no changes from the fall.  That said, conditions may change, so please emphasize to your students that they should check the relevant websites for the most current information.
If you have any questions, please email Ron Johns, rjohns@austincc.edu.
Program Maps
Prior to the beginning of each semester, departments are encouraged to review the contact information and program description provided in their AoS program map(s) to ensure that both sections are up to date. Should any updates be needed, please peruse the Updating Program Maps for Catalog 2022-23 message, which provides instructions on submitting updates to a current program map, as well as links to the process on revising the program map's curriculum or to create a new program map for the subsequent catalog. Please direct any program map-related questions to schedev@austincc.edu.
Request the Respondus 4.0 Software
Please review the latest information on the Respondus 4.0 Tool page and to request access. MAC users can access Respondus on the Virtual Desktop.
Service-Learning
Consider including one of our Service-Learning Spring 2023 events in your syllabus and course planning:
ACC students will have the opportunity to put their knowledge of TX courtroom procedures and laws into practice as they adjudicate and support the state-level high school mock trial competition.
April 4 (Tues) from 6-8pm at HLC Building 2000 Paseo:  Red Bench Dialogue on "Empathy for Those Who Differ from Us"
ACC students will facilitate and participate in table dialogues among diverse participants from the ACC community, Interfaith Action of Central Texas, and the Austin community.  All are invited to attend.  Students will also have opportunities to participate in related community-engaged service-learning opportunities that support empathy and dialogue.
May 4 (Thurs) from 9-2 at Building 4000 HLC:  STEAM Service-Learning Student Research Showcase
Students are invited to share their community engagement experiences in this exciting celebration of their work!  Posters, presentations, and other projects are welcome, and all are invited to attend.
Service-Learning Asynchronous Blackboard Training is available for the Spring Semester and pays $200 with 6 hours of professional development credit.  Sign up today at this link!  Contact Linda Cox for more information: servicelearning@austincc.edu.
Share the Student Support & Services Page
ACC students have access to free support and services – from tutors and academic coaches to advisors and career and transfer specialists. Please share the Student Support page with your students.
Student Accessibility Services (SAS)
Prepare all your course materials ahead of the beginning of the semester to ensure they are accessible to as many students as possible. For example, use Blackboard Ally to test your Blackboard documents to make sure they are accessible. See additional information on video captioning under "Interpreter and Captioning Services".
Review the information here about semester preparation and faculty responsibilities when working with students with disabilities.
Provide the accommodations as outlined in the Faculty Notification Letter (accommodation letter)
Contact SAS@austincc.edu, or the advocate who has approved the accommodations with any questions.
Students have a right to confidentiality.  If you need to have a discussion with them about their accommodations, do so in private.
Please respond to emails from SAS staff promptly. Emails may come from individual staff members, SAS@austincc.edu,SASTest@austincc.edu or SAS-noncredit@austincc.edu.
Please respond to requests for a semester planning meeting for blind or visually impaired students enrolled in your course. These meetings are critical to ensure that semester materials are available in the appropriate format, allowing the student to fully participate.
Testing Center Information and Updates
Please review this detailed message for Testing Center information and updates. For any questions please contact Holly Delacroix – DeRouen (hdelacro@austincc.edu), Director of Testing.
Transfer Services
Transfer support is available year-round to help your students plan their upcoming transfer. Visit austincc.edu/transfer to learn about available resources.
Interested in having Transfer Services present to your class? Request a presentation by filling out this form.
Spring 2023 Transfer Week is scheduled for the week of February 13! Updates will be posted soon at austincc.edu/transferweek. There will be in-person and virtual options. Encourage students to participate in these workshops, fairs, and panels.
Transition from Online Services to MyACC
Be sure to use MyACC for the following common functions as a faculty member:
Class Rosters
Attendance Certification
Instructor Initiated Withdrawal
Grade Submission
Prerequisite Class Roster
Adult Education – Grading
Submit Sub and Waiver Requests
Review Sub and Waiver Requests
Full-Time Faculty Pay and Contract
Student Advising
Check out the intranet help site for more information: Visit Intranet Help Site
Any questions? Contact: john.wilsonmay@austincc.edu
Teaching Online at ACC
Visit the Teaching Online at ACC page for comprehensive information on ACC Distance Education including detailed information on distance education teaching modes, Quality Matters, early intervention requests, and more.
Distance Education Semester Prep Checklist
Another useful tool is the DE Semester Prep Checklist to help you get ready for the semester. Please send any questions about the DE checklist to dlstaff@austincc.edu.
Expert Faculty Librarians are available for:
Teaching online and in-person information literacy (IL) sessions during your class time or asynchronously to address learning outcomes.
Connecting you and your students to resources, including ebooks, databases, electronic journals, OER, and streaming media.
Creating custom online research guides, instructional videos, and online activities to introduce students to library resources.
Collaborating with classroom faculty on assignments, library instruction, syllabus design, and research tools.
Contact an Expert Faculty Librarian
Visit the Ask a Librarian page for detailed contact information to set up a meeting and get started.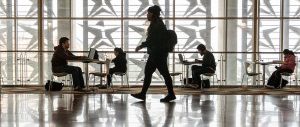 First Day Classes
First Day is a program where the cost of digital course materials is included with students' class fees for a particular class or program. Students will have access to course materials from the very first day. For more information visit the First Day Classes page for students.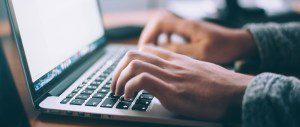 Create a Website
Consider creating a google website with information about yourself, the courses you teach, and other helpful information to help your students get started on the right path. Need help with creating a Google Site? Request help from an Educational Technologist.
Teaching Tools
Review the Tools page for a list of technology tools available for teaching and learning. These include Blackboard Learn, Google Sites, VidGrid, Respondus, web conferencing tools, and more. If you need help using these tools, request help from an Educational Technologist.
View our Faculty Events Calendar for:
Upcoming professional development opportunities
Important College dates & deadlines
Self-paced & archived training
This calendar is interactive and offers users the ability to sort by topic as well as overlap events with your Google Calendar. Bookmark this URL for quick access: tled.austincc.edu/calendar.
Get event updates in your inbox weekly.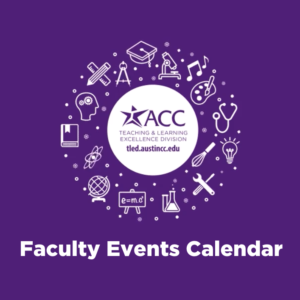 Connect
To get the latest announcements on funding opportunities and other teaching and learning related events subscribe to the TLED weekly newsletter.