Semester Prep
Getting your semester started can take some planning but there's plenty of support. Do you have a suggestion for this page? Please email: tledwebsite@austincc.edu.
Review your Course Evaluation Results
Course evaluation results for Fall Semester 2020 are available. Please review your results to help update your courses. Visit the Course Evaluation Results page for a detailed explanation of the report format and ratings. For any questions about course evaluation results and ratings, please email facultyevaluation@austincc.edu.
Teaching Online at ACC
Visit the Teaching Online at ACC page for comprehensive information on ACC Distance Education including detailed information on distance education teaching modes, Quality Matters, early intervention requests, and more.
Distance Education Semester Prep Checklist
Another useful tool is the DE Semester Prep Checklist to help you get ready for the semester. Please send any questions about the DE checklist to dlstaff@austincc.edu.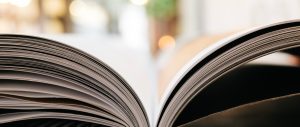 Upload your Syllabus
Part of your semester prep should be uploading a copy of your class syllabus to Lighthouse. Use your ACCeID and password to access Lighthouse. A tutorial page is available for Lighthouse.
Need help with uploading your syllabus to Lighthouse? Contact a Faculty Instructional Support Specialist by submitting this request form.
Check Out Equipment
Do you need a webcam, ipad or headset? The Office of Academic Technology has these and many other items available for check out. See the complete list and submit the Check Out Equipment form to reserve an available item, and schedule a pick time.
Note: The only location available for pick up is the Highland Business Center (HBC).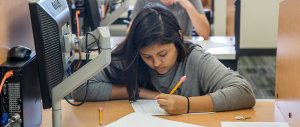 Testing Information for Faculty
ACC Testing Centers are currently closed on campuses. A comprehensive list of testing options is available on the Testing Guide page, including how to use technology tools like Respondus Lockdown Browser.
Expert Faculty Librarians are available for:
Teaching online information literacy (IL) sessions during your class time or asynchronously to address learning outcomes.
Connecting you and your students to resources, including ebooks, databases, electronic journals, OER, and streaming media.
Creating custom online research guides, instructional videos, and online activities to introduce students to library resources.
Collaborating with classroom faculty on assignments, library instruction, syllabus design, and research tools.
Contact an Expert Faculty Librarian
Visit the Ask a Librarian page for detailed contact information to set up a meeting and get started.
View our Faculty Events Calendar for:
Upcoming professional development opportunities
Important College dates & deadlines
Self-paced & archived training
This calendar is interactive and offers users the ability to sort by topic as well as overlap events with your Google Calendar. Bookmark this URL for quick access: tled.austincc.edu/calendar.
Get event updates in your inbox weekly.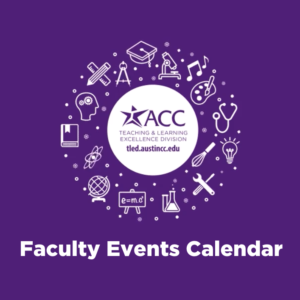 Connect
To get the latest announcements on funding opportunities and other teaching and learning related events subscribe to the TLED weekly newsletter.