Semester Prep
Getting your semester started can take some planning but there's plenty of support. Do you have a suggestion for this page? Please email tledwebsite@austincc.edu.
How to Use the Semester Prep Page
Please visit the links in the left-hand menu for helpful information to assist you in preparing for the upcoming summer semester.
Faculty support is available for every aspect of teaching. Please see below for the list of available options.
If you still have questions regarding faculty support, you can submit a faculty mojo ticket.
Faculty Consultations Available August 14th – August 18th
Faculty Consultations are available starting Monday, August 14th, 2023 through Friday, August 18th, 2023 from 11AM-12PM.
All faculty are welcome to consult with Distance Education Instructional Designers (IDs) to help you prepare for the summer semester. For additional consultation options for faculty, please visit the Teaching Consultations & Support page.
Educational Technology Support
Educational Technologists are located on each campus and the teams provide faculty – and staff – training and support on Blackboard and other academic technologies, classroom AV, and provide technology that can be checked out to support instruction. The Educational Technology Support team can be reached with a central phone number for support across the District – 512-223-0111.
Below are the upcoming hours:
August 14th through August 19th
Extended virtual hours and new semester support during the week of August 14 (beyond the regular 8am – 5pm):
Mon through Fri: 8am to 5pm (in-person/virtual) & 5pm to 7pm (virtual only)
Sat: Noon to 6pm (virtual only)
Regular Fall Semester Hours Beginning August 21st
Mon through Fri: 8am to 5pm (in-person/virtual) & 5pm to 9pm (virtual only)
Sat: 8am to 5pm (virtual only)
Check Out Equipment
Do you need a webcam, iPad or headset? The Office of Academic Technology has these and many other items available for check out – See the complete list. Faculty can visit their campus Faculty Resource Center (FRC)/Teaching & Learning Center (TLC) to check out technology. Visit Check Out Equipment for more details.
View our Faculty Events Calendar for:
Upcoming professional development opportunities
Important College dates & deadlines
Self-paced & archived training
This calendar is interactive and offers users the ability to sort by topic as well as overlap events with your Google Calendar. Bookmark this URL for quick access: tled.austincc.edu/calendar.
Get event updates in your inbox weekly.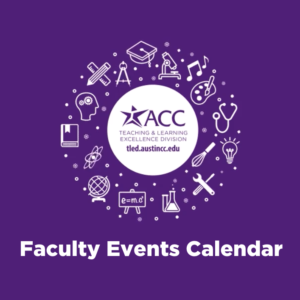 Connect
To get the latest announcements on funding opportunities and other teaching and learning related events subscribe to the TLED weekly newsletter.