Semester Prep
Getting your semester started can take some planning but there's plenty of support. Do you have a suggestion for this page? Please email tledwebsite@austincc.edu.
New to Spring 2022
Course Evaluations
Faculty Use of ACC Testing Centers Guidelines
The guidelines for the faculty use of ACC Testing Centers have been updated. Read them here.
Library Services
ACC Campus Libraries are open and in-person teaching is available by request.
Interpreter Services
Prepare all your course materials ahead of the beginning of the semester to ensure they are accessible.
Request captioning of all videos. Any questions to be sent to captionmymedia@austincc.edu.
Add Interpreters to Blackboard as Students. Any questions regarding interpreters, email interpservices@austincc.edu.
Instructional Web
Review and verify that each section of your instructional website contains up-to-date information.
Update all out-of-date information and broken hyperlinks.
If the Instructional Web team manages your website, submit a request for updates to content and/or broken links.
Master Syllabus Template Updated
From Ron Johns, Associate Dean, Assessment & Evaluation: As we return to a broader variety of in-person services and instruction on campus this fall, the master syllabus template has needed modification. The health and safety protocols, as well as a number of other sections, have been revised to reflect the situation as it is expected to be this fall semester. The updated template is available on the master syllabus website. Obviously, conditions may change, so please emphasize to your students that they should check the relevant websites for the most current information.
If you have any questions, please email Ron Johns, rjohns@austincc.edu.
Media Services is now Educational Technology Support
The Faculty & Instructional Support Specialists (FISS) located on each campus are now Educational Technologists and the team collectively has changed from Media Services to Educational Technology (EdTech) Support. Using one central phone number, connect to the first team member available for help with classroom A/V, checking out equipment, and teaching technology – 512-223-0111.
Request the Respondus 4.0 Software
Please submit the Respondus 4.0 Request Form to obtain the latest PC version of the Respondus 4.0 authoring software. A link to download the Respondus 4.0 installation file, and additional information will be sent. MAC users can access Respondus on the Virtual Desktop.
Share the Student Support & Services Page
ACC students have access to free support and services – from tutors and academic coaches to advisors and career and transfer specialists. Please share the Student Support page with your students.
Student Accessibility Services (SAS)
Prepare all your course materials ahead of the beginning of the semester to ensure they are accessible.
 Review the information here about semester preparation and faculty responsibilities when working with students with disabilities –TLED – Accessibility
Contacting SAS.  If you have questions about anything SAS related, please email SAS@austincc.edu.
Use Blackboard Ally to test your Blackboard documents to make sure they are accessible.
Respond to emails from SAS staff promptly.
Participate in semester planning meetings for our blind and visually impaired students when requested.
Student Life
Transfer Resources Department
Teaching Online at ACC
Visit the Teaching Online at ACC page for comprehensive information on ACC Distance Education including detailed information on distance education teaching modes, Quality Matters, early intervention requests, and more.
Distance Education Semester Prep Checklist
Another useful tool is the DE Semester Prep Checklist to help you get ready for the semester. Please send any questions about the DE checklist to dlstaff@austincc.edu.
Expert Faculty Librarians are available for:
Teaching online and in-person information literacy (IL) sessions during your class time or asynchronously to address learning outcomes.
Connecting you and your students to resources, including ebooks, databases, electronic journals, OER, and streaming media.
Creating custom online research guides, instructional videos, and online activities to introduce students to library resources.
Collaborating with classroom faculty on assignments, library instruction, syllabus design, and research tools.
Contact an Expert Faculty Librarian
Visit the Ask a Librarian page for detailed contact information to set up a meeting and get started.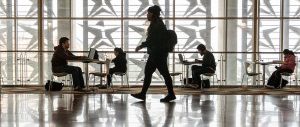 First Day Classes
First Day is a program where the cost of digital course materials is included with students' class fees for a particular class or program. Students will have access to course materials from the very first day. For more information visit the First Day Classes page for students.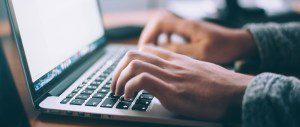 Create a Website
Consider creating a google website with information about yourself, the courses you teach, and other helpful information to help your students get started on the right path. Need help with creating a Google Site? Request help from an Educational Technologist.
Teaching Tools
Review the Tools page for a list of technology tools available for teaching and learning. These include Blackboard Learn, Google Sites, Mediasite, VidGrid, Respondus, Softchalk, web conferencing tools, and more. If you need help using these tools, request help from an Educational Technologist.
View our Faculty Events Calendar for:
Upcoming professional development opportunities
Important College dates & deadlines
Self-paced & archived training
This calendar is interactive and offers users the ability to sort by topic as well as overlap events with your Google Calendar. Bookmark this URL for quick access: tled.austincc.edu/calendar.
Get event updates in your inbox weekly.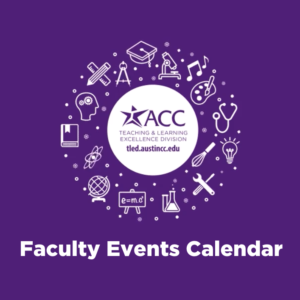 Connect
To get the latest announcements on funding opportunities and other teaching and learning related events subscribe to the TLED weekly newsletter.