Awards
ACC believes in recognizing those faculty who demonstrate outstanding teaching. The following awards are coordinated through the Office of Faculty Development: ACC Teaching Excellence, the League Excellence Award, eFaculty of the Year Award, the NISOD Excellence Award, and the Minnie L. Stevens Piper Award nominations. For any questions about the awards, please email facdev@austincc.edu.
The deadline for nominations has passed. Thank you to all who submitted a nomination!
Award winners will be honored at a reception in the spring. An employee may be nominated for the following based on their job classification.
Classified Employee of the Year Award
Professional-Technical Employee of the Year Award
Administrator of the Year Award
Faculty Leader of the Year Award
CRITERIA
Nominees for Classified Employee, Professional-Technical Employee, Administrator, and Faculty Leader of the Year awards should be those individuals who have gone above and beyond the duties listed in their job descriptions. They may:
Serve as mentors to their colleagues or staff members
Provide assistance beyond their normal duties to aid their department or the institution as a whole
Volunteer to help with institution-wide projects
Encourage their staff or colleagues to enhance their education and/or their professional skills
Provide superior internal and external customer service
Support the institution in a positive and optimistic manner
Represent the institution in a professional manner
Consistently seek improvement of their own skills
ACC Teaching Excellence Award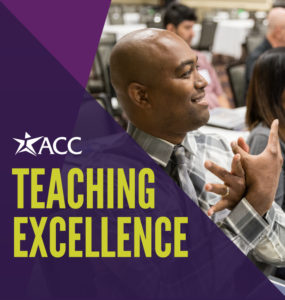 ACC Teaching Excellence Awards honor full-time and adjunct faculty who exemplify the ACC Faculty Values:  Teaching, Scholarship, Inclusion, Collaboration, Service, and Empowerment. In addition to exemplifying ACC Faculty Values, these recipients promote special learning opportunities, student interaction, and innovation that support student success.
Recipients are presented with an award at the Awards Celebration and have an opportunity to be recognized at commencement. Full-time and adjunct faculty recipients each receive a$1000 cash award. Nominations are made by faculty, staff and students. Award winners will be recognized at the Awards Celebration in the spring.
DAISY Award for Extraordinary Nursing Faculty
The DAISY Award for Extraordinary Nursing Faculty honors nursing faculty who inspire their students to remember that nursing is more than tasks and technology. The DAISY nurse faculty is one who ensures that both the art and science of nursing are brought to every patient experience. This award celebrates nursing faculty for their inspirational influence on the nurses of today and tomorrow.
Recipients are presented with an award at the Awards Celebration. Along with an award from Austin Community College, the recipient will also receive a certificate, a special DAISY Award pin, and a Healer's Touch sculpture. Nominations are made by ACC staff, faculty, current students, and nursing student alumni.
E-Faculty of the Year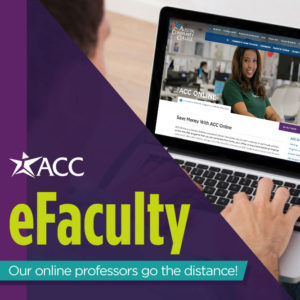 This award recognizes an outstanding ACC Faculty member who has creatively utilized appropriate Internet-based technologies to teach online and/or hybrid courses in ACC. The recipient must have designed and taught one or more online or hybrid courses with an imaginative approach, well-designed course materials, instructional strategies, and a demonstrated rapport with the course participants.
The recipient is presented with an award at the annual Awards Celebration. The recipient will also be sponsored to a distance education conference.
Nominations are made by faculty, instructional designers, and students.
Criteria
1. Course Design – The nominee has created a well-designed and structured course – (structure, weekly/module/unit learning objectives and instructional strategies).
2. Interaction and Collaboration – The nominee has demonstrated rapport with learners as well as other course participants (student/student and faculty/student interaction and collaboration).
3. Course Technology and Media value – The nominee has implemented a creative approach to one or more emerging instructional challenges through the use of technological tools – (tools and media to enhance student interaction and engagement).
4. Assessment- The nominee has demonstrated effectiveness in achieving desired learning outcomes by aligning assessments with course objectives – (assessing student learning outcomes in alignment with course objectives).
Courses must also score 85% on the Quality Matters Rubric.
Upon receipt, nominations will be evaluated by a selection panel made up of instructional designers, faculty, and students. The panel, to be convened by the Distance Education Committee, will evaluate and select an exemplary online course using a rubric based upon the four selection criteria above.
The Minnie Stevens Piper Foundation is a prestigious statewide award honoring ten professors each academic year for their dedication to the teaching profession and for their outstanding academic, scientific, and scholarly achievement. Honorees are awarded certificates naming them "Piper Professors" together with cash honoraria of $5,000.00 for each professor selected.
The purpose of these awards is to give recognition to the teaching profession rather than to research, publication, administration, or other such related activity, although these criteria are also considered by the Selection Committee. This award is considered to be one of the most prestigious awards bestowed upon faculty in the State of Texas. Only ten professors receive this award each year among a pool of approximately 10,000 educators.
NOTE: Department chairs submit nominations for the Piper Professor Award. Only full-time faculty can be nominated.
Criteria for nominees:
Current additional or administrative duties
Service to the off-campus community
Particular effectiveness in the classroom and in personal contact with students
Unusual dedication to the profession of teaching
Once selected and notified, ACC's nominee must submit a Piper Professor Nomination application to the Piper Foundation and the Foundation will officially announce award winners by May.
To honor the nominee, regardless of selection by the Piper Foundation, the Office of Faculty Development will give the nominee a free registration to TCCTA's Round-Up for Great Teaching and recognition at the annual ACC Awards Celebration in the spring. You can review what the selected nominee will have to compile once they are chosen by ACC's committee at:
Piper Professor Submission Criteria
If you have any questions or would like more information, please contact the Office of Faculty Development at (512) 223-7216 or via email facdev@austincc.edu.
The Chancellor's Leadership Award
The recipient of this award is selected by Chancellor Rhodes for their outstanding leadership, service, and dedication to Austin Community College. These individuals have been selected because of their outstanding service to the College that has gone beyond the duties listed in their job description.
The National Institute for Organizational Development (NISOD) Excellence Award
The National Institute for Organizational Development (NISOD) Excellence Award program was established to support individual colleges' recognition and celebration of their finest instructors. At its annual conference, NISOD recognizes more than 1,000 Excellence Awards recipients by formally presenting them with an excellence medallion and an awards booklet that recognizes and showcases their achievements. Every year, selected ACC faculty and staff receive recognition and are awarded the NISOD Excellence Award. For more information about the NISOD award, visit http://www.nisod.org/?q=products/excellence-awards.
The League Excellence Award
In recognition of the long tradition of excellence in community college teaching and leadership, the League Excellence Awards celebrate outstanding contributions and leadership by community college faculty and staff. Selected by a committee, recipients will be recognized at the ACC Annual Awards Celebration and have the opportunity to attend the League for Innovations Conference in the spring.