Full-Time & Adjunct Faculty Evaluation
Austin Community College (ACC) values quality teaching. The Teaching & Learning Excellence Division (TLED) aims to foster a learning environment that helps faculty grow by supporting the continuous improvement of their teaching. The evaluation of full-time, and adjunct faculty includes a portfolio and course evaluations. New full-time faculty are also required to complete a classroom observation.
If you are a faculty member with questions about additional requirements, please contact your department chair. For general faculty evaluation questions, please email the Office of Faculty Evaluation: facultyevaluation@austincc.edu.
Faculty Evaluation Procedures (PDF) – This procedures manual contains details about the ACC evaluation process. Note: The Faculty Evaluation Procedures manual is outdated. The Faculty Evaluation Redesign Working Group is currently reviewing it and will make recommendations.
Classroom Observation Procedures (PDF) – New full-time faculty members must receive an in-class observation. Procedures for conducting in-class observations, elements of effective classroom instruction, and definitions from observation checklists can be found here.
Portfolio Process (PDF) – Details on the portfolio process are provided in the Portfolio Procedures as well as in the Evaluation Procedures. Consult your Department Chair for additional requirements.
Note: The full-time/adjunct faculty portfolio may have classroom/lab/clinical observation included (optional).
Faculty Input Form Information Sheet (MS Word) – This form allows the faculty member to include additional information pertaining to their evaluation.
The following are copies of the course evaluation questionnaires:
Distance education faculty can use the full-time or adjunct forms, as applicable.
Visit the Course Evaluation webpage for full details on processes and procedures the College follows each semester for students to review their educational experience in a class.
Course evaluation pages of interest:
Review the fall semester calendar for faculty evaluation. The calendar outlines important evaluation deadlines for full-time, distance education, and adjunct faculty.
Are you a department chair needing access to course evaluation results for your faculty? Please log into your BOX account to access them. Do you have questions about how to use your BOX account? Please visit the Course Evaluation FAQ.
For questions or issues with access, please email: facultyevaluation@austincc.edu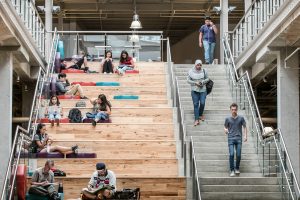 Submitting Final Faculty Evaluation Materials
Final evaluation materials for full-time/adjunct faculty are submitted by the deans to the Office of Faculty Evaluation via Box.
Box is a secure cloud storage platform managed by ACC Information Technology (IT). Instructions are below:
Open the "Archive" folder in your program/division folder and find the folder with the fiscal year.
Upload all of the completed and final summary forms to the fiscal year folder by July 20, 2021.
Requirements
All submitted materials must be signed by all authorities.
All submitted materials must be final.
All final materials must be submitted via Box.
All submitted documents must have the associated Datatel# (ACCeID).
After you have completed uploading all materials to your program/division "Archive" folder in
Box
, please notify the Office of Faculty Evaluation via
facultyevaluation@austincc.edu
.
Important: If faculty signatures are missing in the Faculty Summary Evaluation Form, document the repeated efforts to get the signature and attach that document to the form for the archives. Also, email any faculty member who hasn't signed and alert them to the fact that there will be documentation of repeated requests for signature attached to the evaluation summary form that is retained by the College.