General Assembly
General Assembly 2023 – Forging the Future
Friday, September 29th, 2023
Each fall semester Austin Community College (ACC) employees from across the district gather at General Assembly (GA) to hear key college updates. This event helps connect the dots between an employee's daily work and the strategic plan of the college. All ACC faculty and staff are invited to attend in-person or virtually.
For any questions about General Assembly, please email generalassembly-group@austincc.edu.
General Assembly registration for in-person attendance has now closed.
General Assembly will also stream online on September 29th.
General Assembly Program
For the morning program, live captioning and American Sign Language (ASL) interpreting will be available.
8:00am | Pre-Show | Breakfast | Resource Fair
9:00am | Welcome by Dr. Richard Rhodes, ACC Chancellor
9:10am | Employee Recognitions
9:20am | Remarks by Dr. Barbara Mink, ACC Board of Trustees Chair
9:30am | General Assembly feature video
9:40am | Remarks by Dr. Richard Rhodes, ACC Chancellor
10:10am | Remarks by Dr. Monique Umphrey, ACC Provost
10:30am | Introduction of New Chancellor, Dr. Russell Lowery-Hart
10:50am | Keynote Presentation by Nick Shackleton-Jones
11:45am | Closing Remarks, Dr. Susan Warner-Sanchez, AVC, Teaching & Learning Excellence Division (TLED)
12:00pm | Lunch & Resource Fair
1:00-3:00pm | In-Person Sessions
Zlotnick Family Ballroom
AT&T Hotel and Conference Center
1900 University Ave, Austin, TX 78705
Parking Information
Parking will be available at the hotel and paid by ACC. A parking validation ticket will be provided to attendees at the information desk.
Shuttle Information
Highland Campus Parking Garage
Wilhelmina Delco Dr.
Austin, Texas 78752
View Detailed PDF
Morning Departure
Bus#1: Once Full/No Later than 7:30am
Bus#2: Once Full/No Later than 7:45am
Bus#3: Once Full/No Later than 8:00am
Bus#1 2nd Trip: Once Full/No Later than 8:15am
Bus#2 2nd Trip: Once Full/No Later than 8:30am
Mid-day Return
Buses will depart back to Highland Campu sat:
Bus#1: Once Full/No Later than 12:00pm
Bus#2: Once Full/No Later than 12:15pm
Bus#3: Once Full/No Later than 12:30pm
End-of-day Return
Buses will depart back to Highland Campus at:
Bus#1: Once Full/No Later than 3:10pm
Bus#2: Once Full/No Later than 3:20pm
Bus#3: Once Full/No Later than 3:30pm
The Future of Learning:
Aren't we learning all the time? If so, why would that ever change? Are the future of learning and the future of education different questions? In what ways might education change in the future – what are the options? Is AI poised to 'terminate' education? How will technology affect our working and learning lives in the future? In this provocative & lively session, Nick Shackleton-Jones will provide food for thought and some concrete answers to abstract questions such as these. He will also share real examples and describe some practical directions to take in preserving the future of education and building learning programs that better prepare our students for the future of work.
About the Keynote Speaker: Nick Shackleton-Jones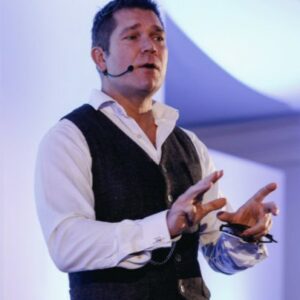 Nick-Shackleton-Jones is the author of How People Learn and is responsible for coining the 'courses to resources' shift, the first general theory of learning (the Affective Context Model), and the 5Di (human-centered learning design) approach. He has a track record of shaping future learning approaches for numerous public and private organizations and is a former CLO at Deloitte UK, and is now CEO at Shackleton Consulting (www.shackleton-consulting.com).
Nick is the winner of several awards for people development, strategy, innovation, and learning content, including the Learning and Performance Institute's Award for Services to the Learning Industry in 2017. He is also the author of 'How People Learn.'
Nick began his professional life as a psychology lecturer and has since worked in consultancy with Siemens, BBC & BP, PA Consulting, and Deloitte in roles encompassing learning strategy, culture, leadership, innovation, technology, and multimedia.
Nick is a memorable conference speaker, a careful leader, and is well-known in the corporate learning industry for ground-breaking work and thinking.
Afternoon Sessions for In-Person Attendees
Titles of sessions may be adjusted slightly during planning.
1:00 pm - 2:50 pm (Double Session)
Note: This is a long session.
Title: Human-Centered Learning Design
Presenter: Nick Shackleton-Jones
Time: 1:00pm – 2:50pm
Location: TBD
Description
Much learning design is content – not context-centric. In other words, we start with a curriculum or some information that we want to get across, instead of the things that people should be able to do. In real life, however, learning is driven by the challenges people face every day and the things that they care about – so wouldn't it make sense to start there when designing learning programs? If we are preparing people for the world of work, surely we should start with the end in mind? This idea, similar to design thinking, can revolutionize our approach to learning design. In this practical workshop session, Nick will step through the key activities required to design learning in a Human-Centered fashion. How you put those skills to use, is entirely up to you!
1:00 pm - 1:50 pm Sessions
Title: ACC's New Strategic Plan
Location: TBD
Title: Cultural Mosaics: Celebrations of Belonging and Purpose
Location: TBD
Title: Our Students, Their Stories – Tailoring Our Work for Their Success
Location: TBD
Title: Painting a Picture of Labor Market Influence on Education
Location: TBD
2:00 pm - 2:50 pm Sessions
Title: Alternative Credentials – Microcredentials and Badging
Location: TBD
Title: The Ongoing Guided Pathways Journey
Location: TBD
Title: Supporting Mental Health in the Workplace
Location: TBD
Title: HB 8 and the New Community College Funding Models
Location: TBD
Virtual Afternoon Sessions Coming Soon
Registration is not required for virtual sessions.
Read summaries from past General Assembly events, including recordings and event materials (if available).
Info Hub
The Info Hub is the best source for the latest ACC news, updates on the Chancellor's priorities, and details on how to get engaged across the College.