Office of Experiential Learning
The Office of Experiential Learning (OEL) provides services to Austin Community College (ACC) academic departments to develop and maintain cooperative education programs. Cooperative education experiences can be a key part of a students' academic career that can lead to hands-on experience, networking opportunities, and potentially a future job. Examples of cooperative education experiences for students can be internships, academic cooperatives, clinicals, and apprenticeships. At ACC these can include courses designated as practicums, clinicals, field experiences, and capstones among others.
Service-Learning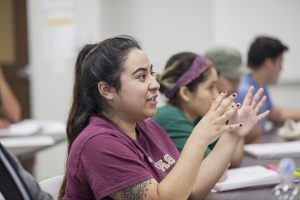 What We Do
The OEL assists ACC departments with the development and maintenance of cooperative education programs by:
Assisting with the recruitment and vetting of industry partners, including providing active lists of open vetted internship positions for each departmental practicum each semester.
Recommending College-wide standards for cooperative education courses
Providing training and assistance for cooperative education faculty facilitators
Providing cooperative education training for employers
Collecting College-wide data regarding cooperative education programs
Working With Over 360 Companies
OEL also assists city, state, and county agencies, companies, and non-profits to develop internships programs and connect them to ACC departments with student interns. If you're a local area employer that would like an ACC student-intern, please fill out the form below.