Teaching Online at ACC
The Teaching & Learning Excellence Division (TLED) and the Office of Distance and Alternative Education (ODAE) work diligently to provide comprehensive support services for potential and current distance education faculty.
Getting Started
Review the Distance Education Handbook and Administrative Policies and Faculty Requirements page. Use the Faculty Guide below to help you get started on developing and delivering your course. The Faculty Guide includes all the information you need for a successful online course, including online forms. There is also a Teaching Online FAQ.
The links below will help you make your distance education courses a success. Please do not hesitate to contact us with any questions or need assistance via dlstaff@austincc.edu.
Online Course Development & Design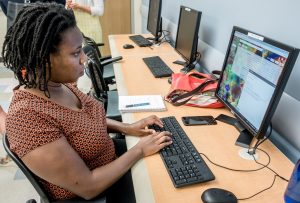 Do you have a face-to-face course that you'd like to transform to an online or hybrid version? Want to get started with planning a new hybrid or online course?
The Office of Distance & Alternative Education has dedicated QM certified instructional designers to help faculty with the design and development of online courses (fully online & hybrid) and the transformation of face-to-face courses to online.
Submit the form below to get started.
Quality Matters (QM)
Quality Matters (QM) is a faculty-centered, peer review process designed to certify the quality of online courses and online components. Sponsored by MarylandOnline, Quality Matters has generated widespread interest and received national recognition for its peer-based approach to quality assurance and continuous improvement in online education.
Distance Education (DE) Mode Descriptions
Online – ONL
Instruction and testing are fully online without required class times.
Synchronous Virtual Class Meetings Required – DLS
Instruction is fully online with required online meetings during the specified days and times listed.
Hybrid Distance – HYD
Instruction is mostly online with some on-campus meetings. An ACC ID card and personal safety measures will be required when on campus.
Hybrid Classroom – HYC
Instruction is mostly on-campus with remaining instruction online. An ACC ID card and personal safety measures will be required when on campus.
Online ACC Faculty Community
Looking for more community? Join the Facebook group where Austin Community College faculty and staff are sharing insights, best practices, advice, successes and challenges, and research about teaching and learning.