Web Conferencing FAQ
We update the FAQ as needed. If you have any questions not listed in the FAQ, please submit your FAQ to tledwebsite@austincc.edu.
General
The following web conferencing tools are available for ACC faculty and staff:
No, faculty are not authorized to use a web conferencing platform that is not supported by the College. Web conferencing platforms must be fully accessible to all users, per AR 1.01.002 – College Accessibility. Web conferencing platforms approved by ACC have been vetted for accessibility.
Faculty are encouraged to work with TLED's Academic Technology support to stay abreast of the latest technologies. If faculty find a product that has instructional merit but is not yet adopted/supported, faculty can submit a proposal to the Instructional Technology Advisory Committee for review.
There is no single tool that is best for a complete population. Like other populations, it depends on the internet availability/stability in each area of Austin. Also, it may depend on the individual needs of faculty members and the students in their courses.
ACC has been distributing computing devices, including iPads and, when necessary, laptops when needed for specific courses since Spring 2020. ACC currently has 1500 iPad kits that are available for students by request. Additionally, other computing peripherals (headsets, microphones, webcams, etc.) are available for students to request.
Internet access is made available in ACC parking lots for students who do not have reliable internet access at home. Additionally, the Office of Academic Technology is following a new internet subsidy program being launched by the FCC to provide students with internet based on certain requirements. This program is not yet available and more information will be released once the program launches.
The Office of Academic Technology leads a number of pilots each year to test out and provide feedback on possible new technologies. Information about applying for these pilots will be communicated through TLED's Office of Faculty Communications.
Requests to consider institutional support of new technologies can be sent to Matthew Evins, Director of Academic Technology, matthew.evins@austincc.edu. These requests go through a formal review process, including feedback and recommendations from the Instructional Technology Advisory Committee. New technologies may also require additional accessibility testing.
While the College has not conducted a large-scale survey of students' video conference preferences, anecdotally students indicate a preference for Zoom. Nearly all Student Affairs' video conferencing with students is done via Zoom. In addition, due to its superior video refresh rate, Zoom must be used when communicating with deaf students when they are using sign language interpreters to communicate.
ACC does not have the ability to calculate instructional versus meeting use on web conferencing platforms. See the chart below for the number of meetings generated by the College on each platform.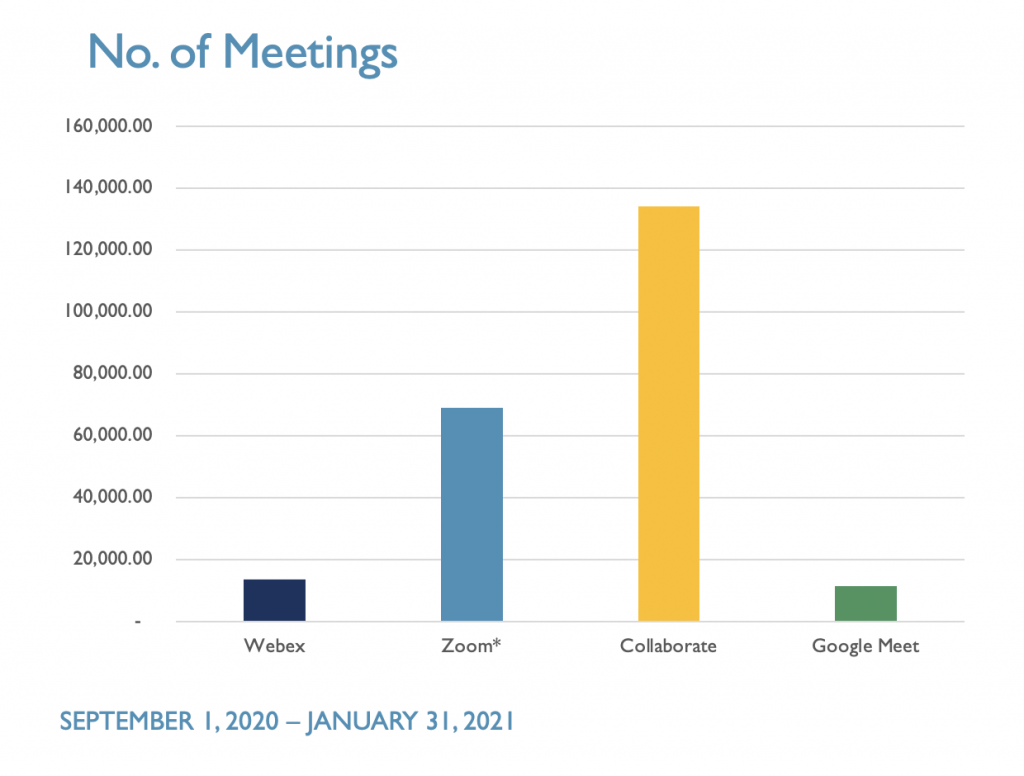 Cost details as of February 2021.
Note: Google Meet is part of the ACC Google package and having this platform does not generate added costs.
| | | |
| --- | --- | --- |
| Platform | Yearly Cost | Cost Per License |
| Google Meet | $0 | $0 |
| WebEx | $34,857 | $0.47 |
| Zoom | $84,000 | $0.67 |
Get Help
The Teaching & Learning Excellence Division (TLED) and the Office of Distance & Alternative Education (ODAE) provide comprehensive support in course design, technology tools for teaching, and other high-impact practices that contribute to our Guided Pathways model at Austin Community College (ACC). We are available for various types of consultations to provide just-in-time assistance and support for your teaching. Review our robust options by visiting: