ACC Faculty Evaluation Proposed Revisions
About the Proposed Revisions
The proposed revisions for faculty evaluation were driven by faculty and designed by faculty, evolving from the Faculty Development and Evaluation Task Force's 2018 survey on faculty development and evaluation needs. The proposed revisions are offered by the Faculty Evaluation Work Group, a sub-committee of the Faculty Development and Evaluation Committee, as a starting point to use for a collegewide discussion to craft a meaningful, equitable, transparent, reflective evaluation process for adjunct and full-time faculty. These proposed revisions address the evaluation process. Student course evaluations will be addressed during Academic Year 2022-2023.
Important:
If you are a Faculty Librarian or a Faculty Counselor, please do not submit feedback here. For the proposed faculty evaluation for librarians, please contact Courtney Mlinar at
courtney.mlinar@austincc.edu
. For counselors, please contact Dawn Allison at
dallison@austincc.edu
.
Why Transform our Current Evaluation Process?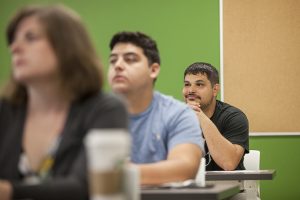 The current Austin Community College (ACC) faculty evaluation process is often perfunctory and does not create a culture that encourages reflection, lifelong learning, and fine-tuning teaching for student learning. In the FDEC Task Force Survey in 2018, 63% of 583 respondents thought faculty evaluation needed improving. Faculty wanted more equity, transparency, consistency, and meaningful, formative, and reflective evaluation process.
Note: The faculty evaluation administrative rules and procedures manual have not been revised since 2010.
Work Group Goals to Address Faculty Concerns
Design a meaningful evaluation process by adopting a formative approach and including self-reflection.
Adopt practices built on equity between full-time and adjunct faculty and address inherent biases in student course evaluations.
Ensure transparency throughout the design process and that all policies, procedures and forms are clearly expressed and made available.
Build consistency throughout the evaluation process while allowing for flexibility when necessary.
Current Status
Proposing a faculty evaluation process that is faculty-driven and created as a starting point for discussions and your comments, suggestions, concerns
Recognizes that what's being proposed requires AR changes
Understands the immense demands on department chairs and that initially more support will be needed for meaningful evaluation of faculty
CALL TO ACTION
The FDEC Faculty Evaluation Work Group wants your feedback on the proposed changes and your vision for a dynamic, equitable, transparent, meaningful evaluation process. Please review this website and submit feedback through the links on the pages.
Contact
For any questions, please email Marcus McGuff at mmcguff@austincc.edu or Gale Spear at gales@austincc.edu. To submit feedback on the proposed faculty evaluation components, please use the submit feedback links listed on the page.